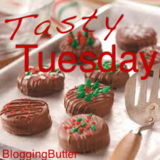 My sista started this thing called "Tasty Tuesdays," where we post some our fave recipes. This is great, because we can all exchange recipes real easily.
(go to my sista's blog: http://www.bloggingbutter.blogspot.com/ It totally rocks, she's a great writer, just like our mommy!)
So, my first recipe is Mimi Hyde's Macaroni n Cheese. It's really yum. But before I get started on the recipe, let me tell you about Mimi Hyde! Mimi Hyde was my mom's sister's husband's mom. My cousins' grandma. Both she and her husband were so very sweet! Everytime we saw them, they had kind words to say and they were both always smiling, even when they were in physical pain. They both passed away several years ago, but I will always remember how they were filled with joy and with love for God!
So, here's the recipe:
1/2 lb elbow macaroni
4 tbsp butter
Dash of tobasco sauce
12 oz can of evaporated milk
2 eggs, beaten
1 tsp dry mustard, dissolved in a little water
1 lb sharp cheddar cheese, grated
salt & pepper to taste
Heat oven to 350*
Boil Macaroni.
Drain and toss with butter in large bow.
Mix tobasco sauce in with evaporated milk.
Stir milk mixture into noodles.
Add the eggs, cheese, & mustard.
Season with salt n peppa
Place in baking disch.
Bake uncovered 30-40 minutes, stirring halfway through the baking time.
And... TA-DA! you will have some very tasty mac n cheese!